Sell Your Record Collection
If you have a record collection to sell, you're in the right place
We are interested in viewing all quality collections of second hand vinyl records located anywhere on the UK mainland.
We have multiple buyers spread around the country, with between 25 and 40 years experience in the business.
We know from experience that we regularly offer more than most of our competitors, and we can pay immediately and directly by bank transfer, or by cash if you prefer. We also buy CD collections.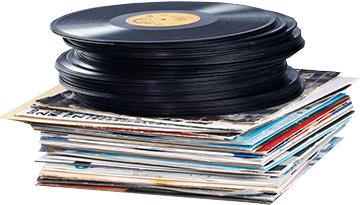 We understand that the circumstances that have led you to take the decision to sell your records can sometimes be stressful and sensitive, and we will always take care to try and make the process as easy for you as possible.
What size of collection do you have?
We are happy to travel anywhere to view larger collections – but we have buyers based in Scotland, the north of England, Manchester, West Yorkshire, Mid-Wales and south London, so smaller collections in or near any of these locations can be viewed too.
Usually, the buying procedure depends on the size of the collection:
Small collections: 50 to 250 items
If you are within 30 miles or so of one of our buyers we will usually be happy to come and visit and make an offer. We can still help people further away though, as we can arrange an insured courier pick-up of your items and assess them when we receive them. If you are unhappy with the price offered the items will just be returned to you. Our office staff will advise on boxes, packaging etc to make sure your items are secure on their journey.
Contact us about your small collection
Medium-size collections: 250 to 750 items
We will always be happy to come and look at collections of this size anywhere on the UK mainland, with the proviso that if you are very remote from us (let's say Devon and Cornwall, north coast of Scotland etc) and at the smaller end of this scale, we may need to wait for another collection to come up nearby to tie the journeys together. Normally, if you have a list and are able to add information by answering some questions on the phone, we will be able to make a rough assessment of value in advance of travelling. We may ask for some pictures to help assess condition.
Contact us about your medium collection
Large collections: 750+ items
We have previously bought collections of over 20,000 items and are able to fund large purchases with no problem. We will still pay in full upfront by bank transfer – beware of anyone who offers to pay in instalments or offers to help you list the items on eBay or Discogs. We know most people want to sell everything as one job lot without dealers cherry-picking the best items. We are happy to buy whole collections wherever possible.
Contact us about your large collection
So, what are we looking for?
We are particularly interested in finding collections of:
Punk, new wave, mod revival - Sex Pistols, Clash, Damned, Jam, Crass, Joy Division, Echo & The Bunnymen, Specials etc
Progressive and psychedelic rock - Led Zeppelin, Pink Floyd, Jimi Hendrix, Velvet Underground, Doors, Rush, Genesis, Queen etc
Death metal, Black metal, Thrash, Earache, etc - Iron Maiden, Metallica, Motorhead, Napalm Death, Mayhem, Megadeth, Carcass etc
80s, 90s & 00s Indie, grunge - Smiths, Depeche Mode, Oasis, Blur, Pulp, Nirvana, Pixies, Sonic Youth etc
Northern soul, rare US soul
60's Ska & Reggae
And of course classic 60s like The Beatles, Rolling Stones, Kinks, Small Faces, Bob Dylan etc
Please note, we don't usually consider DJ collections as a matter of policy, as condition is paramount to us when buying.
Please also note, we do not usually quote on individual one-off items – we are primarily interested in larger collections.
If you do send us a list, we prefer Excel or Access to Word or similar packages. It is handy to be able to sort and total easily.
Please include artist, title, format, total number and details on condition as a minimum.
If you do not have a list, as a minimum we would need to know roughly how many items you have, an idea of the artists included, the condition (both sleeves and discs), and the location.
Do you have a collection?